Skip to Content
The Best Solar Inverter Services With Kapital Electric Inc.
Kapital Electric's solar inverter installation services can help if you are considering upgrading your solar panel system in Chicago, IL. As a trusted provider of alternative energy solutions in the Chicago metropolitan area, we have a team of experts with extensive experience in construction and renewable energy. Our solar inverter installation services use the latest technology in solar energy, and we're committed to ensuring that your system is as efficient as possible.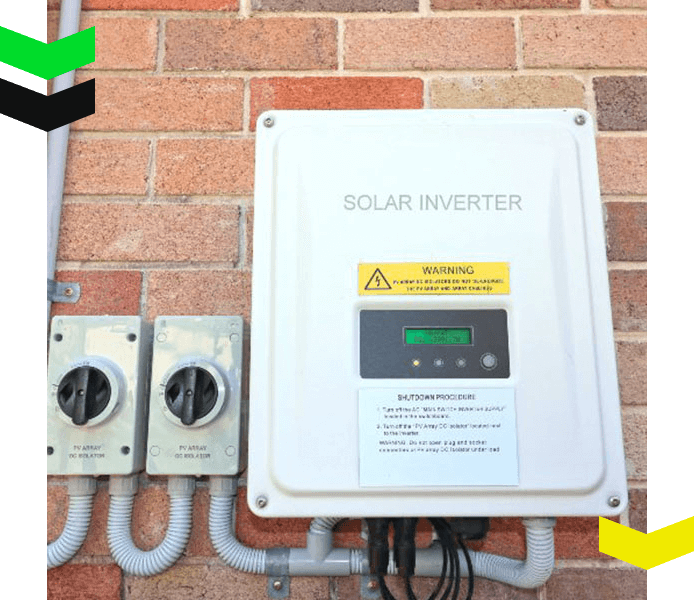 What Are Solar Inverters and How Do They Work?
A solar inverter is a device that converts the direct current electricity generated by solar panels into alternating current (AC) electricity used by homes and businesses. Solar panels generate DC power, which is then sent to the solar inverter to be converted into AC power that can be used to power appliances, electronics, and other devices. In addition to converting DC power to AC power, solar power inverters perform other critical functions, such as monitoring the performance of solar panels, ensuring safety and compliance with industry standards, and connecting to the grid.
Types of Solar Inverters
There are two types of inverters for solar panels available: string inverters and microinverters. The string inverter, also known as a central inverter, is a large device that transforms DC energy collected from multiple solar panels into AC energy. A string inverter consolidates all or multiple solar panels into one centrally located device. In contrast, microinverters are placed at each solar panel, making it a decentralized device. Each microinverter converts the energy produced by its respective solar panel into AC energy before sending it to the home or grid.
Differences Between Inverters
Choosing the right type of solar inverter for your needs can depend on several factors. A string inverter may be a good option if you have a limited budget and do not have shading issues or panel orientation problems. However, a microinverter may be a better fit if you have shading issues, different panel orientations, or want more flexibility.
Solar inverters play a crucial role in a solar energy system and offer several benefits. They convert DC power generated by solar panels into AC power that can be utilized in households or businesses. This AC power can be consumed in real-time or stored in batteries for later use. Solar inverters also provide critical safety features by disconnecting the solar panels from the grid during power outages. Additionally, solar inverters for the home can optimize the energy production of solar panels by tracking the maximum power point, which ensures that the panels operate at their highest efficiency levels.
String Inverters
Micro Inverters
Solar Edge Inverters
How Much Do Solar Inverters Cost?
The average solar inverter costs around $1000 to $1500 for a medium-sized installation. However, as the size of the installation increases, the cost may rise significantly. In early 2022, the average cost of a solar inverter was about $0.28 per watt, with a price range of $0.10 to $0.50 per watt.
Contact Kapital Electric Today
Kapital Electric Inc's solar inverter installation services are designed to help customers in Chicago and the surrounding suburban areas optimize their solar panel systems. Contact us today to schedule your free onsite evaluation and discover how our solar inverter installation services can help you get the most out of your solar panel system.
Make the Easy Switch to Renewable Energy