Skip to Content
Go Solar With One of America's Most Trusted Brands
Kapital Electric Is an Authorized Panasonic Solar Installer
Four Must-Know Aspects of Solar System Warranties:
You're looking forward to going solar but you're skeptical about the various solar panel warranties available. Before you make the switch, it's important to understand the solar warranty landscape. For example, do you know the difference between a solar performance guarantee and a workmanship warranty? You should, and this article will help clear up the confusion.
Different residential solar systems come with different warranties. Keep these four important considerations in mind as you finalize your decision about products, services, manufacturers and installers.
Consult With Your Solar Professional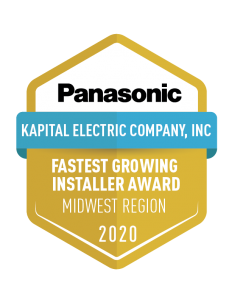 Kapital Electric, Inc. is the fastest-growing Panasonic solar installer for the Midwest Region 2020
As an authorized Panasonic Solar installer, Kapital Electric is here to support you through every phase of ownership. A long-term warranty is only as reliable as the company standing behind it. Backed by one of America's most trusted brands and a century of stability, we offer a comprehensive warranty that covers product, performance, and labor for 25 years.
With over 10 years of experience helping homeowners reduce their electricity bills, the Kapital Electric team will guide you through the solar system buying process. When you're ready to proceed, we'll present you with the most efficient and economical options for your home. From there, you can make an educated decision and the smartest investment. Contact us today for a free estimate.
Make the Easy Switch to Renewable Energy