Skip to Content
Getting Started on a Solar Project
As more people search for alternative energy sources, the demand for certified professionals to install and operate them grows. Kapital Electric Inc. Inc. can handle all your Engineering, Procurement, and Construction (EPC) needs regarding solar installation projects.
We will design your installment and procure the necessary materials to build, operate, and construct it on site. Under one umbrella, we will carry out your solar EPC project on time and on budget. Since we handle everything, you don't have to worry about paying multiple vendors.
What Is EPC in the Solar Industry?
EPC is Engineering, Procurement, and Construction. EPC is used by different companies providing end-to-end solar energy services. These services include system designing, providing procurement information about the system, and installing the system.
Beyond providing you with a solar system, a professional solar EPC company carries out constant checks of your system at intervals for maintenance purposes, to ensure you get the best out of your solar system.
Kapital Electric Inc., your solar EPC contractor in Chicago, provides enhanced services using cutting-edge technology that enables your solar system to last longer while still functioning properly.
Let Us Handle Every Aspect of Your Solar Project
Understanding the ins and outs of solar power is important to getting your project off the ground. Because there is so little room for error, it pays to have expert advice. It's best to hire professionals like Kapital Electric Inc. who know what you need from an EPC contractor in solar and have the relevant skills and experience. We offer years of expertise, and our professionals work hard to realize your solar-powered dreams and ensure your project finishes on time. As a solar EPC contractor company in Chicago, we cover all aspects of engineering, procurement, and construction.
Engineering
Our team of Chicago engineers works proficiently to ensure you get a system with a detailed engineering design customized to match your expectations without limiting your budget. The steps in the design stage include:
Examining your prerequisites and the intended solar system.
Carrying out field research to ensure we can successfully provide you with your desired solar system.
Tracking existing weather conditions.
Ascertaining the design structure best suited for your taste and the highest power generation capacity for your system.
Choosing the tools and equipment to make your system and then creating a miniature 3D model of the intended solar system.
We'll handle the plans for your system. That includes running an analysis on the ideal location for your panels, determining a budget, helping with financing, and designing your panels the way you want them.
Procurement
Our professional services enable us to acquire well-made equipment from the best manufacturers, removing the stress of finding trustworthy and reliable suppliers from your shoulders. As a high-end solar EPC contractor in Chicago, we work with the top players in the manufacturing field to secure good pricing and complete warranty terms.
Kapital Electric Inc. handles the logistics with our supply chain network. Obtaining the necessary supplies and tools is not a concern for you. Within your spending limit, we will make the necessary purchases and store the supplies until we're ready to use them.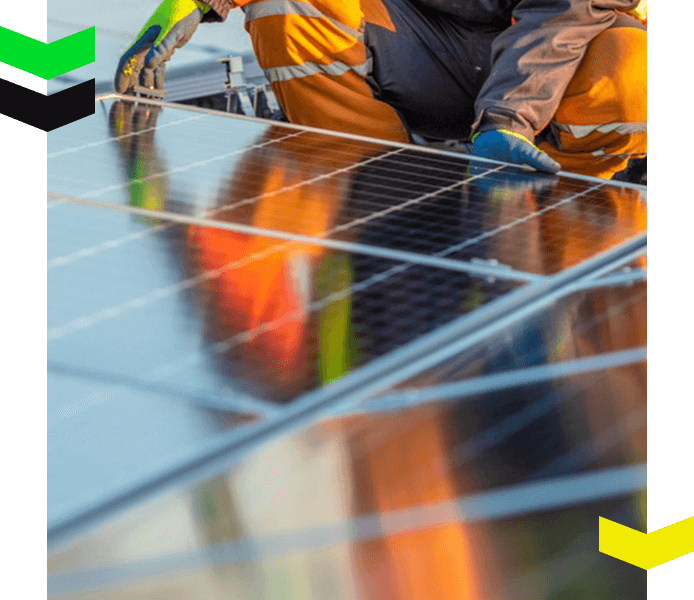 Construction
The solar panel construction is the final stage of the solar installation process. We mount the solar panels, their accessories, and the installation of grid connectivity alongside solar implementation that suits your already existing power supply system. When the installation process is complete, we provide our customers with maintenance services.
The best thing about employing our licensed services is that the entire production and installation process is covered in one contract. That means you are only required to make one payment, without needing to source additional services.
We ensure the proper permits for your location are secured, investigate the site for potential issues, perform site and soil assessments, manage the project's development, and install all modules and wiring.
Contact Kapital Electric Inc.
Solar power is the future. Kapital Electric Inc.'s EPC solar contractors have the skill and experience to handle all your solar installation needs. Our customers in Chicago trust us with their solar projects because of our experience and expertise. Contact the EPC solar contractor professionals at Kapital Electric Inc. Inc. to get started on your solar project.
Make the Easy Switch to Renewable Energy